FOR IMMEDIATE RELEASE
PITTSBURGH CULTURAL TRUST ANNOUNCES
CIRQUE DREAMS HOLIDAZE
NEW HOLIDAY STAGE SPECTACULAR FOR THE ENTIRE FAMILY
FEATURING 30 PERFORMERS FROM AROUND THE GLOBE
TWO PERFORMANCES OF 20 ACTS & OVER 300 COSTUMES
WEDNESDAY, DECEMBER 30, 2015

|

2:00PM

&

7:30PM
BENEDUM CENTER
TUESDAY, DECEMBER 29, 2015

|

7:30PM



TICKETS ARE ON SALE!
Pittsburgh, PA—CIRQUE DREAMS HOLIDAZE, directed and conceived by critically acclaimed director Neil Goldberg, lights up the 2015 holiday season with its newest holiday stage spectacular and returns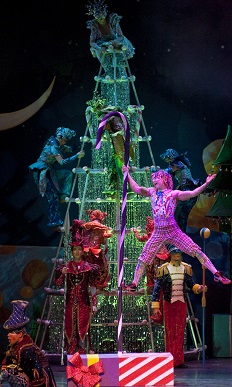 to the Benedum Center,

Tuesday, December 29, 2015 at 7:30 p.m.

and

Wednesday, December 30, 2015

, at

2:00 p.m.

and

7:30 p.m.

This show is produced by Cirque Productions.
From the creators of the groundbreaking Broadway hit CIRQUE DREAMS JUNGLE FANTASY, CIRQUE DREAMS HOLIDAZE is "so full of energy it could end our dependence on oil" according to The New York Daily News and "a delicious confection of charm, sparkle and talent by the sleigh load." This is a show not to be missed…it's a cirque show…Broadway musical…holiday spectacular…and family show all in one.
The Rochester Democrat and Chronicle raves, "Even the Grinch would be impressed with this Christmas wonderland." "Stuffed with so much holiday cheer and audacious acts, Scrooge would exit with a big ol' smile on his face," hails the Erie Times News about this "Broadway-worthy spectacle."


"The perfect way to come in from the cold, forget the holiday stresses and find the magic of the season" proclaims The Oakland Press. Don't miss this international sensation that "Dazzled…at The Kennedy Center" according to The Washington Post.
http://www.cirqueproductions.com/cirque-dreams-gallery/
In CIRQUE DREAMS HOLIDAZE, Broadway director Neil Goldberg re-imagines the holiday season with over 300 costumes, 20 acts and 30 performers from 12 countries showcasing an endless variety of imaginative, heart-pounding and gravity- defying feats you have to see to believe. Experience gingerbread men flipping mid-air, toy soldiers marching on thin wires along with snowmen, icemen and penguins, balancing, jumping and spinning in disbelief. The show celebrates the most wonderful time of the year with singers, choreography and exciting production numbers. Performers twirl, bounce and soar thru the air to original music and seasonal favorites brought to life within a stage setting of gigantic gifts, colossal candy canes and 30-foot towering trees & soldiers creating a wonderland of amazement.
http://www.cirqueproductions.com/cirque-dreams-gallery/
Says Creator/Director Goldberg, "CIRQUE DREAMS HOLIDAZE celebrates our brand of over 20 years with this unique holiday stage spectacle for the entire family. There aren't enough shows today where mom and dad can bring the kids and grandparents, make it a date night, fun time for teens and entertain so many generations with…'how did they do that', 'wow' and 'amazing'. This show has something for everyone."
http://www.cirqueproductions.com/cirque-dreams-gallery/
Tickets are on sale for CIRQUE DREAMS HOLIDAZE performances ($39.75-$59.75) and available for purchase at TrustArts.org, by calling 412-456-6666, or in person at Theater Square Box Office, 655 Penn Avenue.
CIRQUE DREAMS and Neil Goldberg
Over 50 million people have experienced a Cirque Dreams show in theatres, casinos, theme parks, cruise lines, and on Broadway. Now in its 22nd Year, Cirque Dreams shows have garnered the praise of critics around the country from USA Today, Associated Press and The New York Times to CNN, Today Show and Fox & Friends. Producer and Director Neil Goldberg has been declared "One of today's leading theatrical impresarios" by The LA Times and "Uniquely ingenious" byThe New York Daily News. The Cirque Dreams franchise is a globally recognized entertainment brand including, Cirque Dreams Jungle Fantasy, Cirque Dreams Rocks, Cirque Dreams Holidaze, Cirque Dreams Unwrapped at Gaylord Palms Orlando Resort and Cirque Dreams Dinner onboard Norwegian Cruise Line. For more information, visit www.cirqueproductions.com.
http://www.cirqueproductions.com/cirque-dreams-gallery/
Pittsburgh Cultural Trust
The Pittsburgh Cultural Trust has overseen one of Pittsburgh's most historic transformations: turning a seedy red-light district into a magnet destination for arts lovers, residents, visitors, and business owners. Founded in 1984, the Pittsburgh Cultural Trust is a non-profit arts organization whose mission is the cultural and economic revitalization of a 14-block arts and entertainment/residential neighborhood called the Cultural District. The District is one of the country's largest land masses "curated" by a single nonprofit arts organization. A major catalytic force in the city, the Pittsburgh Cultural Trust is a unique model of how public-private partnerships can reinvent a city with authenticity, innovation and creativity. Using the arts as an economic catalyst, the Pittsburgh Cultural Trust has holistically created a world-renowned Cultural District that is revitalizing the city, improving the regional economy and enhancing Pittsburgh's quality of life. Thanks to the support of foundations, corporations, government agencies and thousands of private citizens, the Cultural Trust stands as a national model of urban redevelopment through the arts. For more information, visit TrustArts.org.