FOR IMMEDIATE RELEASE
PITTSBURGH CULTURAL TRUST ANNOUNCES
CITIZENS BANK CHILDREN'S THEATER SERIES

PRESENTATION OF
THEATREWORKS USA IN
JUNIE B.'S ESSENTIAL SURVIVAL GUIDE TO SCHOOL

SIX PERFORMANCE LOCATIONS THROUGHOUT PITTSBURGH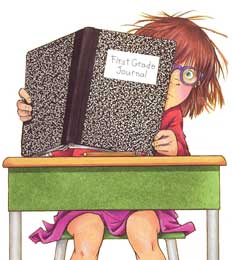 Pittsburgh, PA—The Pittsburgh Cultural Trust announces the award-winning Theatreworks USA will bring its musical stage production of Junie B.'s Essential Survival Guide to School, to six neighborhood locations throughout the Pittsburgh area,

January 10-17, 2016

. This production is part of the Citizens Bank Children's Theater Series, presented by the Pittsburgh Cultural Trust. Citizens Bank is the season sponsor of the series.
Theatreworks USA's Junie B.'s Essential Survival Guide to School brings together the creative team from the original Junie B. Jones musical. The book, lyrics, and music are by Marcy Heisler and Zina Goldrich (Theatreworks USA's Junie B. Jones and Ever After, Dear Edwina, "Taylor the Latte Boy") based on the best-selling books by Barbara Park. The production was originally directed by Peter Flynn (Theatreworks USA's Junie B. Jones, Henry and Mudge, Skippyjon Jones) and choreographed by Devanand Janki (Theatreworks USA's Junie B. Jones and Skippyjon Jones, Off-Broadway: Zanna Don't, Cupid & Psyche). The scenic design is by Luke Hegel-Cantarella (Theatreworks USA's Junie B. Jones), and the costumes are by Lora LaVon (Theatreworks USA's Junie B. Jones).
Theatreworks USA's musical adventure, Junie B.'s Essential Survival
Guide to School, is based on the popular books by Barbara Park. Now that Junie B. Jones has been going to school for over one-and-a-half years, who better to write the book on EVERYTHING you need to know? From bus rules to band-aids, carpools to cookies, Junie B. and friends deliver the definitive word on surviving and thriving in style. With a jillion tips, tricks and trip-ups, Junie B. shares her hard-won expertise and shows us all how school is sometimes scary, sometimes super-fun, and ALWAYS something to sing about! This 60-minute musical is recommended for audiences age 3 and up.

To view scene highlights from Theatreworks USA's musical production of Junie B.'s Essential Survival Guide to School, visit: https://youtu.be/rJI33GTe-R8.
Individual tickets ($12 at the door; $10.50 in advance) can be ordered online at www.TrustArts.org/kids, by calling 412-456-6666, or purchased in person at the Box Office at Theater Square, 655 Penn Avenue, Downtown Pittsburgh. Group tickets can be ordered by calling 412-471-6930. Subscriptions and Flex Ticket Packages are available by calling 412-456-1390.
City: Byham Theater,

Sunday, January 10, 2016 at 2:00 p.m. and Monday, January 11 at 10:15 a.m.

(student groups only)
East: Penn Hills High School,

Wednesday, January 13, 2016 at 7:00 p.m.
North: Marshall Middle School,

Thursday, January 14, 2016 at 5:30 p.m. and 7:30 p.m.
West: Hopewell High School,

Friday, January 15, 2016 at 7:00 p.m.
South: Mt. Lebanon High School,

Saturday, January 16, 2016 at 11:00 a.m. and 2:00 p.m.
Butler: Seneca Valley Intermediate High School,

Sunday, January 17, 2016 at 2:00 p.m.
Theatreworks USASince 1961, Theatreworks USA has enlightened, entertained, and instructed over 85 million people in 49 states and Canada, now performing for about three million people annually. Every year, the company tours approximately 16 shows from its ever-growing repertoire of 125 plays and musicals. Under the direction of Barbara Pasternack (Artistic Director) and Ken Arthur (Managing Director), Theatreworks USA is the only children's theatre to receive both a Drama Desk and a Lucille Lortel Award, and they are known for an extensive multi-cultural guest artist roster, including storytellers, puppeteers, poets and magicians. The company is one of the most honored theatres of its kind, including the Jonathan Larson Performing Arts Foundation Award (2001) and The Actors Fund of America's Medal of Honor (2000) to Theatreworks USA founders Jay Narnick and Charles Hull. www.twusa.org
Citizens Bank Children's Theater Series
The Citizens Bank Children's Theater, a division of the Pittsburgh Cultural Trust, opens the door for children to experience professional performing arts programming which inspires, challenges, educates, and stimulates respect for and an understanding of all cultures in an entertaining and enlightening way. The series introduces children to the arts early in life sparking their interest and appreciation so they continue to enjoy and support the arts as they grow up. The Children's Theater is part of the Pittsburgh Cultural Trust's line of family programming. Other programming includes the EQT Children's Theater Festival, one of only four international children's theater festivals in the nation, and the EQT Bridge Theater Series, a new theater series connecting with ages 7+ and presenting professional theater from around the world.
Pittsburgh Cultural Trust
The Pittsburgh Cultural Trust has overseen one of Pittsburgh's most historic transformations: turning a seedy red-light district into a magnet destination for arts lovers, residents, visitors, and business owners. Founded in 1984, the Pittsburgh Cultural Trust is a non-profit arts organization whose mission is the cultural and economic revitalization of a 14-block arts and entertainment/residential neighborhood called the Cultural District. The District is one of the country's largest land masses "curated" by a single nonprofit arts organization. A major catalytic force in the city, the Pittsburgh Cultural Trust is a unique model of how public-private partnerships can reinvent a city with authenticity, innovation and creativity. Using the arts as an economic catalyst, the Pittsburgh Cultural Trust has holistically created a world-renowned Cultural District that is revitalizing the city, improving the regional economy and enhancing Pittsburgh's quality of life. Thanks to the support of foundations, corporations, government agencies and thousands of private citizens, the Cultural Trust stands as a national model of urban redevelopment through the arts. For more information, visit TrustArts.org.