MANFRED HONECK, PITTSBURGH SYMPHONY ORCHESTRA PRESENT BNY MELLON GRAND CLASSICS WEEKEND WITH IMPERIAL PROGRAM
PITTSBURGH – Manfred Honeck leads the Pittsburgh Symphony Orchestra, pianist Yulianna Avdeeva and guest vocalists in a program of classical heavyweights during BNY Mellon Grand Classics: Emperor Concerto on December 4 and 6 at Heinz Hall.
Featuring the Coronation Mass, the Unfinished Symphony and the Emperor Concerto, this weekend's classical period works are all well-loved and coined with nicknames not given by the composers themselves, but later added to suit their character.
The "Emperor" is Beethoven's last piano concerto, dedicated to his patron and pupil, Archduke Rudolf, and written while Napoleon Bonaparte attacked Vienna, where Beethoven lived. Dazzling pianist Avdeeva returns to Heinz Hall to perform this work, which is imperial in its size and scope.
Preceding this, Manfred Honeck will lead the orchestra, guest vocalists and the Mendelssohn Choir of Pittsburgh in a performance of Mozart's Mass in C major, "Coronation." This mass is one of the composer's most famous religious works and, despite its rather short length, is full of brilliance and musical innovations.
To close, Schubert's Symphony No. 8 (recently renumbered as Symphony No. 7) is one of the composer's most romantic and heartfelt compositions. With only two movements completed, this symphony was groundbreaking in its treatment of time and tonality, and, despite its "Unfinished" moniker, stands as a complete symphonic experience.
"What a joy it is to present the best of the best of Viennese classical music in this time of preparation for the holidays. Three heroes of the classical period who lived nearly at the same time — Beethoven, Mozart and Schubert," said Honeck. "And while we hear about the 'Emperor Concerto' often, it is amazing that the famous 'Coronation Mass' by Mozart will be performed for the first time by the Pittsburgh Symphony Orchestra in Heinz Hall."
A pre-concert talk, open to all ticket holders and led by Assistant Conductor Francesco Lecce-Chong, will occur on stage one hour before each concert. Program notes for the weekend are available online at pittsburghsymphony.org/coronation and on the PSO mobile app the day of the concert. On Sunday, a pre-concert performance by students of the Pittsburgh Piano Teachers Association will begin one hour before the concert time in the Grand Lobby.
The concert begins at 8 p.m. on Friday and 2:30 p.m. on Sunday. Tickets, ranging in price from $20 to $94, can be purchased by calling the Heinz Hall box office at 412-392-4900 or visiting pittsburghsymphony.org/coronation.
The Pittsburgh Symphony would like to recognize and thank BNY Mellon for its 2015-2016 title sponsorship of BNY Mellon Grand Classics. Fairmont Pittsburgh is the official hotel of the Pittsburgh Symphony. Delta Air Lines is the official airline of the Pittsburgh Symphony.
Manfred Honeck
has served as music director of the Pittsburgh Symphony Orchestra since the 2008-2009
Manfred Honeck, credit Felix Broede

season. Together with the Pittsburgh Symphony Orchestra, Honeck's widely celebrated performances and distinctive interpretations continue to receive international recognition. To great acclaim, Honeck and the Pittsburgh Symphony Orchestra regularly perform in major music capitals and festivals, among them the BBC Proms, Musikfest Berlin, Lucerne Festival, Rheingau Musik Festival, Beethovenfest Bonn, Grafenegg Festival, Carnegie Hall and Lincoln Center. Honeck and the Pittsburgh Symphony Orchestra have also built a close relationship with the Musikverein in Vienna. Following a week-long residency in 2012, they will return once again for three performances in the course of an extensive tour of Europe in spring 2016.
Honeck's successful work with the Pittsburgh Symphony Orchestra has been extensively documented on recordings with the Reference and Exton labels. The first SACD released by Reference Records of Strauss tone poems, drew rave reviews. The second recording, of Dvořák's Symphony No. 8 and the Symphonic Suite from Janáček's opera Jenůfa, conceptualized by Honeck himself, was nominated for a Grammy Award. Bruckner's Symphony No. 4 was released in February 2015 to critical acclaim and Beethoven 5 & 7 was released on November 13, 2015. Several recordings, among them Mahler's Symphony No. 4, which won a 2012 International Classical Music Award, are also available on the Japanese label Exton.
As a guest conductor, Honeck has worked with the world's leading orchestras including the Berlin Philharmonic, Vienna Philharmonic, Royal Concertgebouw Orchestra, Bavarian Radio Symphony Orchestra, Gewandhausorchester Leipzig, Staatskapelle Dresden, London Symphony Orchestra, Orchestre de Paris and Accademia di Santa Cecilia Rome. In the United States, Honeck has conducted the New York Philharmonic, The Cleveland Orchestra, Chicago Symphony Orchestra, Los Angeles Philharmonic, Philadelphia Orchestra and Boston Symphony Orchestra. He is also a regular guest at the Verbier Festival. In 2013, Honeck gave his successful debut with the Berlin Philharmonic Orchestra, resulting in a CD recording of Dvořák together with Anne-Sophie Mutter for Deutsche Grammophon, which received an Echo Klassik award in 2014. The 2015-2016 season sees him return to Bamberg, Stuttgart, Rome, Stockholm and New York, as well as the Munich Philharmonic, London Symphony Orchestra and Royal Concertgebouw Orchestra, among others.
Born in Austria, Honeck received his musical training at the Academy of Music in Vienna. Many years of experience as a member of the Vienna Philharmonic and the Vienna State Opera Orchestra and at the helm of the Vienna Jeunesse Orchestra have given his conducting a distinctive stamp. Honeck began his career as assistant to Claudio Abbado in Vienna. Subsequently, he was engaged by the Zurich Opera House, where he was bestowed the prestigious European Conductor's Award in 1993. Honeck was one of three main conductors of the MDR Symphony Orchestra in Leipzig and in Oslo, he assumed the post of music director at the Norwegian National Opera and was engaged as principal guest conductor of the Oslo Philharmonic Orchestra. From 2000 to 2006, he was music director of the Swedish Radio Symphony Orchestra in Stockholm and, from 2008 to 2011, principal guest conductor of the Czech Philharmonic Orchestra, a position he resumed for another three years at the beginning of the 2013-2014 season.
From 2007 to 2011, Honeck was music director of the Staatsoper Stuttgart where he conducted premieres including Berlioz's Les Troyens, Mozart's Idomeneo, Verdi's Aida, Richard Strauss's Rosenkavalier, Poulenc's Dialogues des Carmélites and Wagner's Lohengrin and Parsifal, as well as numerous symphonic concerts. His operatic guest appearances include Semperoper Dresden, Komische Oper Berlin, Théâtre de la Monnaie in Brussels, Royal Opera of Copenhagen, the White Nights Festival in St. Petersburg and the Salzburg Festival.
Honeck has received honorary doctorates from St. Vincent College in Latrobe, Pennsylvania and, most recently, from Carnegie Mellon University in Pittsburgh. Moreover, he has been artistic director of the "International Concerts Wolfegg" in Germany for more than 20 years.
Yulianna Avdeeva, credit Harold Hoffman
Yulianna Avdeeva
rose to fame when she won First Prize in the Chopin Competition in 2010. She has since embarked on a world-class career and her artistic integrity is rapidly ensuring her a place amongst the most distinctive artists of her generation.
A regular performer throughout Asia, this autumn Avdeeva embarked on a major concert tour of Japan, performing concerts with the Deutsches Symphonie-Orchester Berlin and featured in solo recitals in Korea, Taiwan and China. Avdeeva will undertake tours of North and South America, including her debut with Orchestre symphonique de Montréal and engagements with Pittsburgh Symphony Orchestra and Orquestra Sinfônica do Estado de São Paulo. Other orchestra highlights include international debuts with leading ensembles such as the Chamber Orchestra of Europe at the Lucerne Festival and the Aalborg Symphony Orchestra, both under the baton of Anu Tali.
Recent orchestral highlights have included engagements with NHK Symphony Orchestra, Rundfunk-Sinfonieorchester Berlin, Royal Stockholm Philharmonic, Finnish Radio Symphony, London Philharmonic and Bournemouth Symphony orchestras, Orchestra dell'Accademia Nazionale di Santa Cecilia, Tchaikovsky Symphony Orchestra of Moscow Radio and concerts at the Vienna Festival.
An active and committed chamber musician, she has worked with the Kremerata Baltica and members of the Berliner Philharmoniker. In 2016, Yulianna Avdeeva will tour Germany with violinist Julia Fischer and the Academy of St. Martin-in-the-Fields appearing at the Kölner Philharmonie, Philharmonie Essen, Konzerthaus Berlin and Laeiszhalle Hamburg, amongst others. In recital, Avdeeva has performed at London's International Piano Series, Rheingau Musik Festival, Barcelona's Palau de la Música Catalana, Liederhalle Stuttgart, Philharmonie Essen, Schwetzinger Festspiele and La Roque d'Anthéron Festival.
Avdeeva's Chopin performances have drawn particular praise, marking her out as one of the composer's foremost interpreters. Her long association with the Fryderyk Chopin Institute has won her a huge following in Poland. Avdeeva's most recent recital recording featuring works by Chopin, Schubert and Prokofiev was released on Mirare in August 2014. She released a recording of the Chopin concertos with the Orchestra of the Eighteenth Century and Brüggen.
Avdeeva began her piano studies at the age of five with Elena Ivanova at Moscow's Gnessin Special School of Music and later studied with Konstantin Scherbakov and with Vladimir Tropp. At the International Piano Academy Lake Como, she was taught among others by William Grant Naboré, Dmitri Bashkirov and Fou Ts'ong. In addition to her Chopin prize, she has won several other prizes including the Bremen Piano Contest in 2003, the Concours de Genève 2006 and the Arthur Rubinstein Competition in Poland.
Christina Landshamer
was born in Munich and initially went to the Academy of Music and Performing Arts in
Christina Landshamer,
credit Marco Borggreve

the city, where she studied under Angelica Vogel, following which she studied in Konrad Richter's singing classes and in Dunja Vejzović solo classes at the State University for Music and Performing Arts in Stuttgart.
Following initial guest performances at the Stuttgart State Opera, she sang at the Opéra du Rhin in Strasburg under Marc Albrecht (Fidelio/Marzelline) as well as at the Komische Oper in Berlin (Susanna). In 2009, "the triumphant and virtuoso Christina Landshamer" had her very successful debut at the Theater an der Wien in Vienna as Clarice in Haydn's Il mondo della luna under Nikolaus Harnoncourt. This was followed by performances at the Paris Théâtre du Châtelet (with a stage version of the Messiah) and at the Salzburg Festival in Frau ohne Schatten (Hüter der Schwelle – stage direction: Christof Loy) under Christian Thielemann in 2011. She performed at the Salzburg Festival again the following year as Frasquita in Carmen, this time under Sir Simon Rattle with the Berlin Philharmonic. Also in 2012, she had her debut at the Baden-Baden Festival, again under Christian Thielemann (Ariadne auf Naxos, Najade). Later that year, Landshamer made her highly acclaimed debut as Pamina in Simon McBurney's celebrated new production of Mozart's Magic Flute at the Amsterdam Opera under Marc Albrecht. In 2014, she was seen in Handel's Rinaldo as Almirena in Glyndebourne. In 2015, she will collaborate again with Christian Thielemann (Freischütz/Ännchen), this time at the Semperoper in Dresden.
Landshamer regularly works with conductors such as Kent Nagano, Marc Albrecht, Marcus Creed, Manfred Honeck, Philippe Herreweghe, Ton Koopman, Nikolaus Harnoncourt, Sir Roger Norrington, Stéphane Denève, Pablo Heras-Casado, Christian Thielemann and Riccardo Chailly, and with orchestras such as the Bavarian Radio Symphony Orchestra, the Munich Philharmonic Orchestra, the Gewandhausorchester Leipzig, the Südwestfunk Radio Symphony Orchestra, the Freiburg Baroque Orchestra, the Tonhalleorchester, Zurich, the Czech Philharmonic Orchestra, Prague, the Orchestre des Champs Elysées and the Montreal Symphony Orchestra.
Alongside her operatic projects, she has other important performances during the 2014-2015 season, including a tour with the Gewandhausorchester under Riccardo Chailly with concerts in Leipzig, the Lucerne Festival and the London Proms, concerts with the Berlin Philharmonic Orchestra/Alan Gilbert, with the Netherlands Radio Philharmonic Orchestra/Philippe Herreweghe, the NDR Symphony Orchestr/Thomas Hengelbrock, the Bavarian Radio Choir/Peter Dijkstra and performances with the WDR Symphony Orchestra, as well as the Orchestre National de France/Daniele Gatti.
She is particularly fond of singing lieder: a recital of duets with Maximilian Schmitt at the Vienna Konzerthaus marks her first collaboration with Gerold Huber, with whom she had several guest performances in 2013 with a number of recitals, such as at the "Musik im Riesen" in the Essen Philharmonic and the Rheinvokal, with lieder by Schumann, Ullmann and Brahms.
Corrie Stallings
Corrie Stallings
is a second-year resident artist at Pittsburgh Opera in 2015-2016. In 2014-2015, she appeared as Bertarido/rodelinda and Mercedes/Carmen. In 2015-16, she is slated to sing Jo/Little Women and Rosina/The Barber of Seville Student Matinee. In summer 2015, Stallings was a member of the Young American Artists Program at Glimmerglass Festival and appeared as Jazz Trio Girl/Trouble in Tahiti and coveredVanderdunder/Paquette/Candide. Stallings was a festival artist with Opera Theatre of Saint Louis in 2013 and 2014, where she performed as Third Lady/The Magic Flute under the baton of Jane Glover, and covered Stephanie Blythe in the role of Gertrude Stein in the world premiere of Ricky Ian Gordon's 27, both in 2014. She also performed the role of Kate/The Pirates of Penzance in 2013. Additionally in 2013, Stallings was a soloist in Chicago Symphony Orchestra's Christmas production, Welcome, Yule!, as well as the alto soloist cover in Bach's Mass in B Minor under the baton of Riccardo Muti. In 2012, she was the alto soloist in Handel's Messiah with Colorado Symphony Orchestra, and was a 2013 third place regional finalist in the Metropolitan Opera National Council regional auditions. While pursuing her master's degree at Northwestern University, Stallings performed the roles of Cherubino/Le Nozze di Figaro, Samira/The Ghosts of Versailles and Second Lady/Die Zauberflöte. A native of the San Francisco Bay Area, Stallings holds a B.A. in vocal performance and art history from Cal Poly State University and a M.M. in opera performance from Northwestern University.
Paul Appleby, credit Dario Acosta
Regarded as one of the most accomplished artists of his generation, American tenor Paul Appleby is a graduate of New York's prestigious Juilliard School and of The Metropolitan Opera's Lindemann Program. Praised for the expressive and interpretive depth of his performances, Appleby has earned his reputation as a fine Mozartian through numerous productions of Così fan tutte, Die Zauberflöte and Don Giovanni and, after highly acclaimed productions at both Oper Frankfurt and The Met under James Levine, is considered a leading interpreter of Stravinsky's Tom Rakewell (The Rake's Progress).
A regular guest at The Met, Appleby has performed a diverse repertoire including Brian in Nico Muhly's Two Boys (praised by the New York Post as his "star-making performance"), Chevalier de la Force in Poulenc's Les dialogues des Carmélites under Louis Langrée, Hylas in Berlioz's Les Troyens under Fabio Luisi, and, last season, David (Die Meistersinger von Nürnberg) under James Levine. Other notable highlights include Tamino (Die Zauberflöte) at Washington National Opera, Don Ottavio (Don Giovanni) at San Diego Opera, and his debut at Glyndebourne Festival Opera as Jonathan in Barrie Kosky's acclaimed production of Handel's Saul.
A versatile artist, Appleby enjoys a buoyant concert career alongside his operatic commitments and returns this season to the New York Philharmonic in Handel's Messiah as well as debuting with the Los Angeles Philharmonic under Gustavo Dudamel in Mozart's Requiem. Also this season, Appleby heads back to The Met for a role debut as Belmonte (Die Entführung aus dem Serail) under James Levine, makes his debut at San Francisco Opera as Tamino and returns to the Glyndebourne Festival in Berlioz' Béatrice et Bénédict under Robin Ticciati. In recital and alongside Ken Noda, Paul Appleby sings in recital at Carnegie Hall and as part of the Boston Celebrity Series, and makes a debut appearance at London's Wigmore Hall with Malcolm Martineau.
The recipient of numerous awards and scholarships including the 2011 Richard Tucker Career Grant and George London Foundation Award, Appleby is a passionate advocate of art song, and has performed for the Marilyn Horne Foundation, and at the Aspen Music and Caramoor Festivals with pianist Steven Blier. Paul Appleby has also recorded works by Schubert and Britten as part of The Juilliard Sessions Digital Debut series released by EMI Classics and appeared in recital at New York's Alice Tully Hall, Washington's Kennedy Center and as part of the New York Festival of Song.
Paul Edelmann, credit Horowitz
Paul Armin Edelmann's
association with music began at an early age as the second son of the internationally renowned singer Otto Edelmann. As a child, he was a member and soloist of the famous Vienna Boys' Choir. Later on he reinforced his musical studies by studying voice with his father at the University of Music and Performing Arts in Vienna. Shortly after completing his studies he became a member of the Opera Theatre in Koblenz in Germany where he sang more than 30 roles.
In 1998, Edelmann went freelance and moved back to Vienna. Since then he has sung at the Vienna State Opera, the Vienna Volksoper, the Teatro Real Madrid, the Komische Oper Berlin (Fürst Ottokar in Weber's Der Freischütz), the Théâtre Royal de la Monnaie in Brussels (Dottore Malatesta in Don Pasquale), the San Diego Opera (Dr. Falke and Papageno), the New National Theatre in Tokyo, the Opéra de Rouen, the Lincoln Center Festival in New York (Sciarrino's Luci Mie Traditrici), the state theatres in Darmstadt and Wiesbaden, and the opera houses in Cologne, Frankfurt am Main, Leipzig, Dublin and the Israeli Opera in Tel Aviv, as well as the Palau de les Arts Valencia, the San Sebastian Festival, Hongkong Opera and the Center of the Performing Arts, Beijing.
More recent performance venues have included the Opera National de Montpellier, the Prinzregententheater München, the Deutsche Oper Düsseldorf and (in 2010) his debut as Eisenstein in J. Strauss's Die Fledermaus at the Staatsoper Stuttgart. He has also recently sung at the Teatro de la Maestranza Sevilla, Philharmonie Berlin, Teatro Massimo Catania, Opera Montpellier, the Opera National du Rhin Strasbourg, Bregenzer Festspiele, Victoria Hall Geneve, KKL Lucerne, Tonhalle Zürich and the Winter Festival Sochi.
2014 saw Edelmann´s debut at the Musikfest Hamburg, the Rheingau Music Festival, his return to the Bregenzer Festspiele for Mozart's Zauberflöte and the release of his Schumann-recital album with pianist Charles Spencer and a new recording of Johann Strauss´ Die Fledermaus with Edelmann as Eisenstein. Both recordings on the classic-label Capriccio. Projects for 2014-2015 season include Die Fledermaus (in concert) with the Warsaw Philharmonic Orchestra, Mozart's Requiem with the Israel Philharmonic Orchestra, a concert at the Kurt Weill Festival in Dessau, Mahler's Lied Von Der Erde with Opéra National de Paris and a new production of Korngold´s Die tote Stadt at the Warsaw Opera.
Edelmann has previously given concerts and recitals in many notable venues including the Vienna Konzerthaus, the Vienna Musikverein, the Festival Hall in Salzburg, the Brucknerhaus in Linz, the Salzburg Mozarteum, the Cologne Philharmonie, the Philharmonie am Gasteig in Munich, the Konzerthaus Dortmund, the Philharmonie Luxembourg, the Palau de la Música in Valencia, Tchaikovsky Conservatory in Moscow, the Vatican in a concert honouring Pope John Paul II (Haydn's The Creation) in 1998 and again in 2006 with the Vienna Philharmonic Orchestra (Mozart's Coronation Mass).
Edelmann has given recitals in Austria, Germany, Italy, Spain, France, Belgium, Denmark, the United States, Canada, China and Japan and has worked with such well-known conductors as Nikolaus Harnoncourt, Lorin Maazel, Michel Plasson, Ivor Bolton, Paolo Carignani, Kazushi Ono, Miguel Gómez Martínez, Julia Jones, Ralf Weikert, Karel Mark Chichon, Vladimir Fedosejew, Leopold Hager and Manfred Honeck.
Hailed as one of the finest choruses in the country, the Mendelssohn Choir of Pittsburgh (MCP) is proud of its long artistic partnership with the Pittsburgh Symphony Orchestra and looks forward to another exciting season at Heinz Hall. Primarily a volunteer chorus, the Mendelssohn Choir is composed of more than 100 singers whose passion and commitment enables them to perform alongside the world's greatest musicians. In addition to its performances with the PSO, the Mendelssohn Choir produces its own concerts in the community and operates the Junior Mendelssohn Choir of Pittsburgh, the region's premier young adult chorus. The Mendelssohn Choir began its 2015-2016 season with an all-Duruflé concert on October 11 at East Liberty Presbyterian Church, and bid farewell to Betsy Burleigh, MCP's much beloved music director. Burleigh is universally acknowledged for building upon the legacy left by Music Director Emeritus Robert Page, and taking MCP to new levels of excellence during her 10-year tenure with the Choir. Under her direction, MCP has earned high praise for its mastery of the great choral classics. The Mendelssohn Choir is engaged currently in the search for its next music director, who will be its seventh in its 108-year-old history. For the remainder of the season, Maria Sensi Sellner will be acting music director and will prepare the Choir for its forthcoming performances with the Pittsburgh Symphony Orchestra.
As the Pittsburgh Symphony Orchestra's "chorus of choice," the Mendelssohn Choir has performed with some of the world's foremost conductors including Lorin Maazel, Mariss Jansons, Rafael Frühbeck de Burgos, Michael Tilson Thomas, Claudio Abbado, Mstislav Rostropovich, Leonard Slatkin, Charles Dutoit, André Previn, Sir Neville Marriner, Yan Pascal Tortelier, Helmuth Rilling, Ingo Metzmacher, Richard Hickox, Zdenek Mácal and Manfred Honeck. Performances of the Choir with the Pittsburgh Symphony Orchestra are heard locally over WQED-FM (89.3) and distributed nationally by PRI. Committed to fostering the choral art form, the Mendelssohn Choir has numerous recordings, commissions and premieres to its credit, including works by Ned Rorem, Nancy Galbraith and Derek Bermel. The Choir's most recent recording released in fall 2011 is Mahler's Symphony No. 3 with the Pittsburgh Symphony Orchestra and the Children's Festival Chorus of Pittsburgh with Manfred Honeck conducting.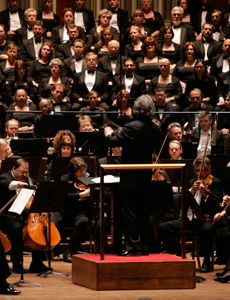 The Pittsburgh Symphony Orchestra, known for its artistic excellence for more than 120 years, is credited with a rich history of the world's finest conductors and musicians, and a strong commitment to the Pittsburgh region and its citizens. Past music directors have included Fritz Reiner (1938-1948), William Steinberg (1952-1976), Andre Previn (1976-1984), Lorin Maazel (1984-1996) and Mariss Jansons (1995-2004). This tradition of outstanding international music directors was furthered in fall 2008, when Austrian conductor Manfred Honeck became music director of the Pittsburgh Symphony. The orchestra has been at the forefront of championing new American works, and gave the first performance of Leonard Bernstein's Symphony No. 1 "Jeremiah" in 1944
and John Adams' Short Ride in a Fast Machine in 1986
. The Pittsburgh Symphony has a long and illustrious history in the areas of recordings and radio concerts. As early as 1936, the Pittsburgh Symphony broadcast on the airwaves coast-to-coast and in the late 1970s it made the ground breaking PBS series "Previn and the Pittsburgh." The orchestra has received increased national attention since 1982 through network radio broadcasts on Public Radio International, produced by Classical WQED-FM 89.3, made possible by the musicians of the Pittsburgh Symphony Orchestra. With a long and distinguished history of touring both domestically and overseas since 1900—including 36 international tours to Europe, the Far East and South America—the Pittsburgh Symphony continues to be critically acclaimed as one of the world's greatest orchestras.
Heinz Hall for the Performing Arts
is owned and operated by Pittsburgh Symphony, Inc., a non-profit organization, and is the year-round home of the Pittsburgh Symphony Orchestra. The cornerstone of Pittsburgh's Cultural District, Heinz Hall also hosts many other events that do not feature its world-renowned orchestra, including Broadway shows, comedians, speakers and much more. For a full calendar of upcoming non-symphony events at the hall, visit heinzhall.org
Friday, December 4 at 8 p.m.
Sunday, December 6 at 2:30 p.m.
PITTSBURGH SYMPHONY ORCHESTRA
BNY MELLON GRAND CLASSICS: EMPEROR CONCERTO
MANFRED HONECK, conductor
CHRISTINA LANDSHAMER, soprano
CORRIE STALLINGS, mezzo soprano
PAUL ARMIN EDELMANN, bass
MENDELSSOHN CHOIR OF PITTSBURGH
Wolfgang Amadeus Mozart Mass in C major, K. 317, "Coronation"
Mendelssohn Choir of Pittsburgh
Franz Schubert Symphony No. 8 in B minor, D. 759, "Unfinished"
Ludwig Van Beethoven Concerto No. 5 in E-flat major for Piano and Orchestra, Opus 73,
Twitter: @pghsymphony
|
Facebook: facebook.com/PittsburghSymphonyOrchestra