SINGER/SONGWRITER CHRIS JAMISON OF 'THE VOICE' TO APPEAR IN
PITTSBURGH SYMPHONY ORCHESTRA'S HIGHMARK HOLIDAY POPS NEXT MONTH
PITTSBURGH – Singer/songwriter and Pittsburgh native Chris Jamison will appear in Highmark Holiday Pops with the Pittsburgh Symphony Orchestra at Heinz Hall December 11-13 and 19-20.
Jamison is best known for appearing on NBC's "The Voice," eventually finishing third with Maroon 5 lead singer Adam Levine as his coach. Jamison's first single, "Velvet," moved more than 77,000 digital downloads during its first week of release, going on to rack up more than 400,000 in downloads. He was signed to Republic Records shortly after the show's conclusion and is gearing up to release new music.
A graduate of North Hills Senior High School, Jamison has been singing and immersing himself in the world of musical theater since middle school. In fact, Highmark Holiday Pops won't be his first experience on the Heinz Hall stage: As a member of North Star Kids, he performed in the hall with the late Marvin Hamlisch and the Pittsburgh Symphony Orchestra. Jamison also was a member of the Civic Light Opera Academy before attending Capital University in Ohio.
compliments of Mendolson Chor website
Jamison will apply his signature pop-meets-soul sound to "Georgia on My Mind" (accompanied by Pittsburgh Symphony members Harold Smoliar on piano, Andy Reamer on percussion and Jeff Grubbs on bass) and "This Christmas" (accompanied by the full orchestra), among other songs, during the Pittsburgh Symphony's annual holiday pops concerts this December. He will be joined on stage by a variety of other guest stars — including returning favorite Chris Sanders as Santa Claus, the Mendelssohn Choir of Pittsburgh, the Three Rivers Ringers handbell choir and dancers from Attack Theatre — as well as the talented musicians of the Pittsburgh Symphony Orchestra and guest conductor (and former Pittsburgh Symphony resident conductor) Daniel Meyer.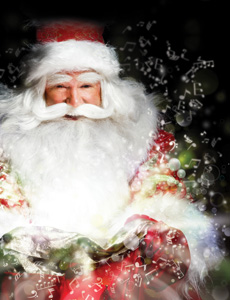 A night of holiday music for the whole family, tickets to the Highmark Holiday Pops begin at only $24. Performances are Friday, December 11 at 8 p.m.; Saturday, December 12 at 2:30 and 8 p.m.; Sunday, December 13 at 2:30 p.m.; Saturday, December 19 at 2:30 and 8 p.m.; and Sunday, December 20 at 2:30 p.m. Tickets are on sale now and are available at the Heinz Hall box office, online at pittsburghsymphony.org/holidaypops or by phone at 412-392-4900.
Jamison also will appear with the orchestra — along with Sanders as Santa, New Castle-area native and singer Vanessa Campagna and Maestro Meyer — at Holiday Pops at the Scottish Rite Cathedral in New Castle on December 18 at 8 p.m. Tickets to this concert are $16-$59 and subscriptions to the three-concert series are still available. More information and tickets available online at pittsburghsymphony.org/src or by phone at 412-392-4900.
The Pittsburgh Symphony would like to recognize and thank Highmark Blue Cross Blue Shield for its 2015 title sponsorship of Highmark Holiday Pops. Fairmont Pittsburgh is the official hotel of the Pittsburgh Symphony.