FOR IMMEDIATE RELEASE: Friday, Nov. 6, 2015Contact: Meghan Swartz
Associate Director of Communications
mswartz@pittsburghballet.org
412-454-9117
High-res photos available upon request.
Pittsburgh Ballet Theatre Stages Classic "The Nutcracker"
PBT to Unveil New Christmas Tree for 2015 Production

PITTSBURGH, PA – Featuring more than 100 dancers and vivid Pittsburgh-inspired scenery, Pittsburgh Ballet Theatre stages its sweeping production of "The Nutcracker" Dec. 4-27, at the Benedum Center. "The Nutcracker" opens for a 24-performance run at 7 p.m. Friday, Dec. 4.
Pittsburgh Ballet Theatre's classic "The Nutcracker" has been a Pittsburgh tradition for 14 years. Set to Tchaikovsky's sublime score, a dreamlike journey unfolds through a moonlit snow scape to a whimsical Land of Enchantment. More than 100 dancers bring to life iconic choreography from the wondrous waltz of the snowflakes to the pristine Sugarplum Fairy pas de deux. PBT's "The Nutcracker" brings the story home for a holiday tradition inspired by Pittsburgh landmarks and traditions.
This year, Artistic Director Terrence S. Orr will introduce several new touches – adding additional dancers to the Waltz of the Flowers, redesigning the Rat King's elaborate headpiece and adding new surprises to the Party and Battle scenes. The most dramatic difference will be a brand-new Christmas tree, which famously grows in Act I as the enchantment takes hold. PBT has commissioned a hand-crafted drop, which will heighten the tree and amplify the special effect.
"'The Nutcracker' is such a massive, textured production, which leaves a lot of potential to weave new nuances into the tradition each year," said PBT Artistic Director Terrence S. Orr. "You could watch this production all 24 times and discover a new detail each time. It's part of what makes this ballet so magical."
The production features costume and set designs by Emmy-winning theatrical designer Zack Brown. From the romantic white tutus of the Snow Scene to the bumblebees and flowers of the Land of Enchantment, the production's 200-plus costumes were built in the PBT Costume Shop under the direction of Costumier Janet Groom Campbell.
In addition to PBT's 30 company dancers, nearly 130 PBT School students, ages 7 and up, will perform throughout the run as toy soldiers, clowns and other enchanted characters. Orr creates unique casting combinations for each of the show's 24 performances. One dancer can perform as many as eight character roles during a single season and even multiple roles per show. The variety brings fresh chemistry and highlights emerging talents in principal roles.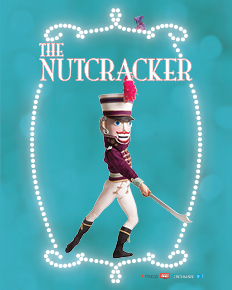 "The Nutcracker" is one of the most popular ballets of all time, based on a classic tale written by German Author, E.T.A Hoffman. Since the ballet's premiere in 1892, companies have adapted the story by altering choreography and emphasizing themes. Beginning in 2002, Orr recreated the famous production with an unexpected love story, more complex choreography and a Pittsburgh setting. The set design and storyline reflect Pittsburgh landmarks, such as the snow scene's Mt. Washington view and a Land of Enchantment carousel inspired by the city's historic amusement parks.
Tickets start at $28, and are available at www.pbt.org, 412-456-6666 or by visiting the Box Office at Theater Square. Groups of eight or more can save up to 50% on tickets by contacting PBT's Group Sales department at groupsales@pittsburghballet.org or 412-454-9101.
Performance Dates & Times
Fri., Dec. 4 – 11 a.m. (student matinee) & 7 p.m. (opening night)

Sat., Dec. 5 – 2 & 7 p.m.

Sun., Dec. 6 – 12 & 4:30 p.m.
Thurs., Dec. 10 – 7 p.m.

Fri., Dec. 11 – 7 p.m.

Sat., Dec. 12 – 2 & 7 p.m.

Sun., Dec. 13 – 12 & 4:30 p.m.
Thurs., Dec. 17 – 7 p.m.

Fri., Dec. 18 – 7 p.m.

Sat., Dec. 19 – 2 & 7 p.m.

Sun., Dec. 20 – 12 & 4:30 p.m.
Tues., Dec. 22 – 7 p.m.

Wed., Dec. 23 – 7 p.m.

Thurs., Dec. 24 – 2 p.m.

Sat., Dec. 26 – 2 & 7 p.m.

Sun., Dec. 27 – 12 p.m.
About PBT's 2015-2016Pittsburgh Ballet Theatre's season continues with audience favorite "Peter Pan," Feb. 12-21, at the Benedum; Mixed Repertory #2, March 10-13, at the Byham Theater; and "Le Corsaire" (The Pirate), April 15-17, at the Benedum. Single tickets start at $28 and are available online at www.pbt.org, by calling 412-456-6666 or visiting the Box Office at Theater Square.

About Pittsburgh Ballet Theatre
One of the most exciting ballet companies in the United States, Pittsburgh Ballet Theatre has built a legacy of excellence and innovation since its founding in 1969. Its eclectic style and irrepressible energy have been shaped by four distinguished artistic directors over four decades. In the 1980s, former New York City Ballet Principal Dancer Patricia Wilde led the Company to new heights and national acclaim with an emphasis on virtuosic technique and works by the modern masters, including her mentor, George Balanchine. Since 1997, the Company has flourished under the direction of Terrence S. Orr, former American Ballet Theatre ballet master and principal dancer. Mr. Orr has created a powerful repertoire, including fresh versions of traditional ballets, original works commissioned to contemporary American music and dramatic works that push the boundaries of ballet as an art form. Through more than 50 performances each year at home and on tour, PBT audiences discover the passion and joy of ballet.

###