Contact Margie Romero, Communications Manager at Pittsburgh Public Theater
Pittsburgh Public Theater Presents
Ted Pappas directs and choreographs the Great American Musical.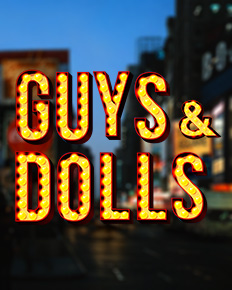 PITTSBURGH
(January 11, 2016) Brimming with song & dance, comedy & romance, gamblers & chorus girls, the unforgettable Guys & Dolls starts the year at Pittsburgh Public Theater. Ted Pappas directs and choreographs the Great American Musical running January 28 – February 28, 2016 at the O'Reilly Theater, Pittsburgh Public Theater's home in the heart of Downtown's Cultural District. For tickets call 412.316.1600 or visit ppt.org. Guys & Dolls is presented by Highmark.
With music & lyrics by Frank Loesser, book by Jo Swerling & Abe Burrows, and based on the stories of Damon Runyon, Pittsburgh Public Theater's production includes a cast of 21 and a live orchestra led by Music Director F. Wade Russo (My Fair Lady). The amazing score includes "If I Were a Bell," "I've Never Been in Love Before," "Take Back Your Mink," "Luck Be a Lady," "Sit Down You're Rockin' the Boat," "Marry the Man Today," and many more incomparable songs.
Guys & Dolls
is set in 1950 New York City and Havana. Nathan Detroit (Joel Hurt
Charlie Brady

Jones) bets bigtime gambler Sky Masterson (CMU graduate Charlie Brady) that he can't get the Save-A-Soul Mission's Sarah Brown (Kimberly Doreen Burns who starred in Camelot andMy Fair Lady) to go on a date with him. Nathan is also the ringleader of the oldest established permanent floating crap game in New York, which he hides from his girlfriend of 14 years, Hotbox Nightclub star Miss Adelaide (Clarksburg, WV native and Broadway veteranKirsten Wyatt).
Other featured players are Quinn Patrick Shannon as Nicely Nicely Johnson, Gavan Pamer as Benny Southstreet, Sharon Schaller as General Cartwright, Joe Jackson as
Kirsten Wyatt

Rusty Charlie, and Larry John Meyers as Arvide Abernathy. In addition the incredible cast includesTony Bingham, Stephen Dagrosa, Jerry Gallagher, Michael Greer, Daina Michelle Griffith, Ashton Guthrie, Daniel Krell, Stephanie Maloney, Mara Newbery, J. Alex Noble, Michael Sullivan, and Andrea Weinzierl.
The designers for Guys & Dolls are Michael Schweikardt (Scenic), Martha Bromelmeier (Costumes), Kirk Bookman (Lighting), and Zach Moore (Sound). Orchestrations are by Dan DeLange and Casting is by Cindi Rush Casting. Carol Schuberg is the Associate Choreographer. Ruth E. Kramer is the Production Stage Manager and Phill Madore is the Assistant Stage Manager.
Pittsburgh Public Theater Presents
January 28 – February 28, 2016
Tuesdays at 7 pm. Wednesdays thru Saturdays at 8 pm.
Saturdays at 2 pm (except Feb. 6). Also 2 pm on Thursday, Feb. 25.
Sundays at 2 & 7 pm (except Feb. 28 when the final performance is at 2 pm).
Press Night is Thursday, Feb. 4. Opening Night is Friday, Feb. 5.
Ticket prices: $30 - $65. Tickets for students and age 26 and younger are $15.75.
Discounts for groups of 10+ are available by contacting Casey Helm at 412.316.8200 ext. 704 or
chelm@ppt.org
.
For tickets call 412.316.1600 or visit ppt.org