CONTACT: Meghan Swartz
412-454-9117
"Peter Pan" Adaptive Dance Tailors Ballet Class to
Students with Special Needs


PBT to Present Sensory-friendly "Peter Pan" Feb. 18, at the Benedum
PITTSBURGH, PA (Jan. 28, 2016) – Building on the success of its sensory-friendly performances, Pittsburgh Ballet Theatre's adaptive dance classes provide a platform for students with special needs to move from ballet patron to active participant. Themed around "Peter Pan," PBT offers its next session of adaptive dance classes Saturdays Feb. 13, to April 9, at PBT Studios, 2900 Liberty Avenue.

Students will explore the movement and rhythm of Peter, Tinker Bell, Wendy, Captain Hook and other characters in connection with PBT's sensory-friendly Peter Pan performance.
PBT will offer two class sessions: a 2 p.m. class for students in grades 7-12 and a 3 p.m. class for students in grades 1-6.

In collaboration with Autism Connection of PA, PBT launched the series last season for middle-and-high-school students with autism spectrum disorders and other special needs. Based on modified choreography from "Peter Pan" and other classics, the classes combine adapted teaching methods with creative movement principles and ballet class essentials like live music, barre and center work. Classes are accompanied by live percussion music.
PBT's sensory-friendly performance of "Peter Pan" will debut at 7 p.m. on Thursday, Feb. 18, at the
Benedum Center. The performance is designed for people with sensory sensitivities, autism and other special needs to enjoy the ballet in a supportive theater environment.



Accommodations include specially trained staff, quiet and activity areas in the lobby, relaxed house rules, minor adjustments to potentially startling light, sound and special effects and pre-performance guides. Throughout the performance, the house lights remain dimly lit and audience members are free to come and go from their seats as needed.





"The audience response at our sensory-friendly performances has been tremendous. We can't wait to share 'Peter Pan' with these families," said PBT Artistic Director Terrence S. Orr. "'Peter Pan' is one of our most popular full-length productions. It's incredibly engaging – especially for young people – with the charisma of the characters, high-energy level of the dancing and its fantastic flying sequences."





Following sensory-friendly performances of "The Nutcracker" (2013 and 2014) and Beauty and the Beast (2015), "Peter Pan" will be the third story ballet to enter PBT's sensory-friendly repertoire. PBT presented its first sensory-friendly performance in December 2013 with "The Nutcracker," the country's first professional adaptation of the holiday classic.



Tickets can be purchased online at www.pbt.org/sensory-friendly-performances or by calling 412-456-6666. Groups of 10 or more can save up to 50 percent by calling 412-454-9101 or emailing groupsales@pittsburghballet.org.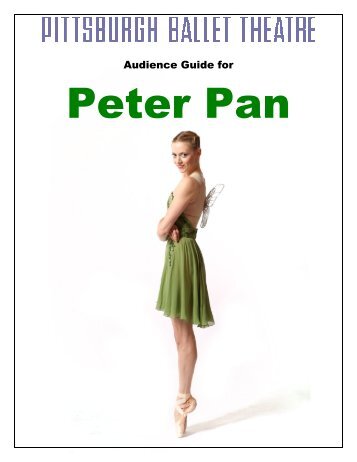 About 'Peter Pan'
Feb. 12-21 – Benedum Center Set to a lush Edwardian score, Jorden Morris' dazzling "Peter Pan" brings J.M. Barrie's classic to life with luminous dancing, thrilling flying sequences and charismatic characters like the show-stealing Tinker Bell. Opening Valentine's weekend, "Peter Pan" takes the Benedum stage for 11 performances Feb. 12-21. Tickets start at $28, and are available atwww.pbt.org, 412-456-6666 or by visiting the Box Office at Theater Square.

About PBT Accessibility Initiatives
In addition to sensory-friendly performances, PBT also offers audio-described performances, audio program notes at www.pbt.org, large-print and braille programs, adaptive dance classes for students with autism, the Dance for Parkinson's class series and other accommodations for patrons with special needs. For more information, please visitwww.pbt.org/plan-your-visit/accessibility.
Dreamweaver Marketing Associates provides this blog as a service to the community, friends, clients and business associates. Feel free to use this blog as a resource and also to send in your press releases.
Dreamweaver Marketing Associates is a full service marketing company that specializes in online and digital bradning. For additional information you can contact the host of this blog at 412-444-5197.