PITTSBURGH CULTURAL TRUST ANNOUNCES
THE NEW MUSICAL STAGE PLAY BY TYLER PERRY
TYLER PERRY & CASSI DAVIS SCHEDULED TO APPEAR IN PITTSBURGH
Pittsburgh, PA—The Pittsburgh Cultural Trust announces that Tyler Perry will star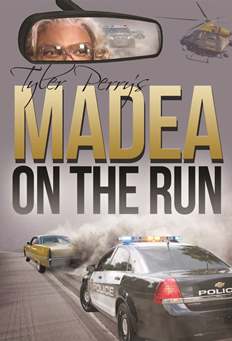 in his new musical stage play Madea On The Run at Pittsburgh's Benedum Center (237 7th Street, Downtown Pittsburgh) for a limited engagement. Three performances of Tyler Perry's Madea On The Run are scheduled for

Friday, February 26, 2016 at 8:00 PM and Saturday, February 27 at 2:00 PM

and 7:00PM.
Tickets ($44.25-$71.25) vary according to performance and are available at TrustArts.org, by phone at (412) 456-6666, or in person at the Box Office at Theater Square, 655 Penn Avenue.
About the Show
Madea is at it again in Tyler Perry's most outrageously funny stage play ever. In trouble with the local authorities, Mabel Simmons, notoriously known as Madea, is on the run from the law. With no place to turn, she volunteers to move in with her friend Bam who is recovering from hip replacement surgery. Bam is so grateful that her faithful friend Mabel is putting her life on hold in order to nurse Bam back to health. Unknown to Bam however, Madea is only using the concerned friend gag as a way to hide out from the police. But as they say… all things work together for the good of those who love the Lord and are called according to his purpose. Madea's presence at Bam's house is just what the doctor ordered. Bam's family is in desperate need of some home improvement, and it is the only kind of family makeover that Madea could deliver. Starring Tyler Perry as Madea, and Cassi Davis as Aunt Bam, Madea On The Run delivers a couple hours of pure joy and laughter. With brand new music written by Tyler Perry, the show delivers a finger snapping and inspirational evening of theater. Madea's life lessons on friendship, marriage, personal reflection, and overcoming, leave audiences with some great food for the soul. Don't miss Tyler Perry's Madea On The Run.

Tyler Perry's inspirational journey from the hard streets of New Orleans to the heights of Hollywood's A-list is the stuff of American legend. Born into poverty and raised in a household scarred by abuse, Tyler fought from a young age to find the strength, faith and perseverance that would later form the foundations of his much-acclaimed plays, films, books and shows. It was a simple piece of advice from Oprah Winfrey that set Tyler's career in motion. Encouraged to keep a diary of his daily thoughts and experiences, he began writing a series of soul-searching letters to himself. His writing inspired a musical, I Know I've Been Changed, and in 1992 and in 1998 his perseverance paid off when a promoter booked I Know I've Been Changed for a limited run at a local church-turned-theatre. This time, the community came out in droves, and soon the musical moved
to Atlanta's prestigious Fox Theatre. Tyler Perry never looked back.And so began an incredible run of 13 plays in as many years, including Woman Thou Art Loosed!, a celebrated collaboration with the prominent Dallas pastor T.D. Jakes. In the year 2000, I Can Do Bad All By Myself marked the first appearance of the now-legendary Madea. The God-fearing, gun-toting, pot-smoking, loud-mouthed grandmother, Madea, was played by Perry himself. Madea was such a resounding success, she soon spawned a series of plays - Madea's Family Reunion (2002), Madea's Class Reunion (2003), Madea Goes To Jail (2005) - and set the stage for Tyler's jump to the big screen. In 2015, Perry returned to the stage, performing his new original play, Madea on the Run, to sold out audiences across the United States.

The Pittsburgh Cultural Trust has overseen one of Pittsburgh's most historic transformations: turning a seedy red-light district into a magnet destination for arts lovers, residents, visitors, and business owners. Founded in 1984, the Pittsburgh Cultural Trust is a non-profit arts organization whose mission is the cultural and economic revitalization of a 14-block arts and entertainment/residential neighborhood called the Cultural District. The District is one of the country's largest land masses "curated" by a single nonprofit arts organization. A major catalytic force in the city, the Pittsburgh Cultural Trust is a unique model of how public-private partnerships can reinvent a city with authenticity, innovation and creativity. Using the arts as an economic catalyst, the Pittsburgh Cultural Trust has holistically created a world-renowned Cultural District that is revitalizing the city, improving the regional economy and enhancing Pittsburgh's quality of life. Thanks to the support of foundations, corporations, government agencies and thousands of private citizens, the Trust stands as a national model of urban redevelopme

nt through the arts.
About Tyler Perry
Perry's first feature film, Diary of a Mad Black Woman, debuted at number one nationwide. His ensuing films, Madea's Family Reunion, Daddy's Little Girls, Why Did I Get Married?, Meet The Browns, The Family That Preys, I Can Do Bad All by Myself, Why Did I Get Married Too?, For Colored Girls, Madea's Big, Happy Family, Good Deeds and Madea's Witness Protection have all been met with massive commercial success, delighting audiences across America and around the world. He starred in the Rob Cohen directed Alex Cross and helped release Academy Award-nominated Precious, a movie based on the novel Push by Sapphire, in conjunction with his 34th Street Films banner, Oprah Winfrey's Harpo Films and Lionsgate.
In the fall of 2008, Perry opened his 200,000 square foot Studio in Atlanta, situated on the former Delta Airlines campus of more than 30 acres. The Studio consists of five sound stages, a post production facility, a pond, a back lot, a 400-seat theater, a private screening room, and designated areas for entertaining and hosting events.
Tyler recently garnered rave reviews for his role opposite Ben Affleck in David Fincher's box office hit, Gone Girl. He will next be seen on the big screen in 2016 for Paramount's Teenage Mutant Ninja Turtles sequel as the villain "Baxter Stockman."
A philanthropist, New York Times best-selling author, television producer, actor and activist, Perry continues to break television network and box office records with his unique brand of inspirational entertainment to a devoted new audience. It is a brand that quickly became an empire. Perry has garnered a Helen Hayes Award for Excellence in Theater, the Brandon Tatikoff Legacy Award from the National Association of Television Program Executives (NATPE), an MTV Movie Award, over 20 NAACP Award nominations and over a dozen subsequent awards.
Pittsburgh Cultural Trust