FOR IMMEDIATE RELEASE
JANUARY 2017
CONTACT LISA ALEXANDER
PR MARKETING MANAGER
(412) 361-1915
ALTAN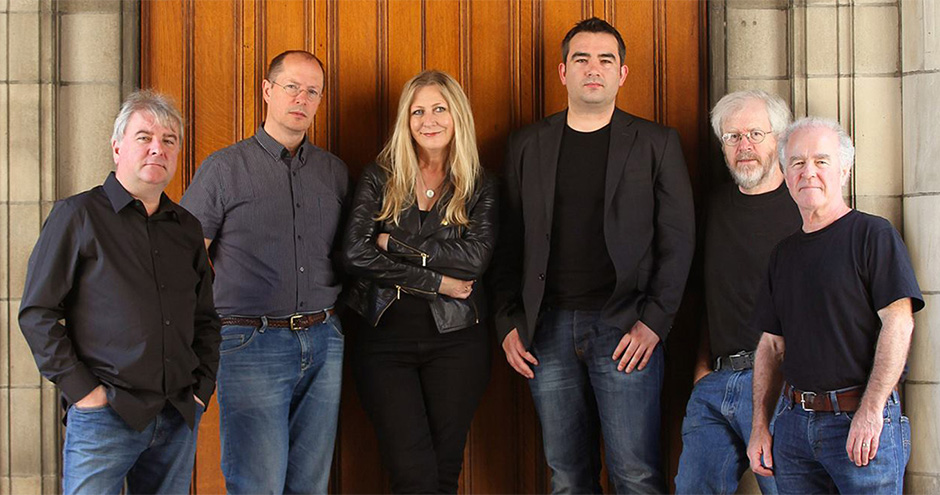 (PITTSBURGH, PA)— CALLIOPE WELCOMES ALTAN TO CARNEGIE LECTURE HALL (OAKLAND) ON SATURDAY, FEBRUARY 25, 2017 AT 7:30 PM.
Tickets and information are available online at
www.calliopehouse.org
or by calling the Calliope office at (412) 361-1915.
Tickets: $45* / $20* (FULL-TIME STUDENT ID) *PLUS HANDLING FEES
"More than any Irish group, this Donegal quintet is seen as keeper of the traditional flame."
–Boston Globe


In the last dozen years, no traditional Irish band has had a wider impact on audiences and music loves throughout the world than Altan. They have moved audiences from Donegal to Tokyo to Seattle with their heartwarming, dynamic live performances, and with their exquisitely produced, award-winning recordings that range from the most touching old Irish songs to hard-hitting reels and jigs. Throughout their career, Altan has shown unwavering commitment to bringing the best of traditional music to contemporary audiences, particularly that of the Donegal fiddlers and singers.
The chance to experience this thirty-year active band is to experience the living legacy of Irish music. The seeds of Altan lie in the music and spontaneity of sessions in kitchens and pubs in their hometown of Donegal, where their music was heard in an atmosphere of respect and intimacy. It is here that the bands' heart still lies, whether they are performing on TV in Australia or jamming with Ricky Skaggs on the west coast of the United States. Founded by Gweedore singer and fiddler, Mairead Ni Mhaonaigh and her now deceased partner Frankie Kennedy, Altan's commitment to good natured fun was second only to their commitment to excellence in all things musical. Thus, the band members gathered were inevitably top-notch. Altan has always been a band of virtuosos. The earliest addition was a bouzouki-player, Ciaran Curran, then US-based Derry guitarist Daithi Sproule whom they met during their first tours of the US . Followed by Donegal fiddler, Ciaran Tourish, a player with a special love for the weaving of spontaneous harmony and counterpoint round the melodies of the other lead players. Ciaran's nephew, Martin Tourish is the newest band member on accordion.
Founded in 1976, Calliope is a non-profit music organization that organizes and administers a variety of concert series, a folk music school, and educational outreach programs. As the premier promoter of roots music in southwestern Pennsylvania, Calliope's mission is to promote and preserve traditional and contemporary heritage-based music and its allied arts. Calliope programs are supported in part by the A.W. Mellon Education and Charitable Trust Fund of the Pittsburgh Foundation, Opportunity Fund, The Allegheny County sales tax revenues awarded by the Allegheny Regional Asset District, The Heinz endowments, Pennsylvania Council on the Arts, University of Pittsburgh Library System, and an anonymous donor. Calliope also thanks the Carnegie Library of Pittsburgh and Chatham University.
###
--
Lisa Alexander, MFA
PR Marketing Manager
Calliope
6300 Fifth Avenue, 3rd Floor
Pittsburgh, PA 15232
412-361-1915
www.calliopehouse.org
About this Blog:
Dreamweaver Marketing Associates provides this blog as a service to the community, friends, clients and business associates. Feel free to use this blog as a resource and also to send in your press releases.
Dreamweaver Marketing Associates is a full service marketing company that specializes in online and digital branding. Run exclusively by Joanne Quinn-Smith, aka TechnoGranny and specializing in organic search content, like blogs, video and audio podcasts and searchable social media. For additional information you can contact the host of this blog, Joanne Quinn-Smith at 412-444-5197.
Podcasts that come under the umbrella of Dreamweaver Marketing are PositivelyPittsburghLive, TheTechnoGrannyShow ,MondayMorningMarketeer